ESCO Concept
ESCO is a company that provides integrated energy services to its customers, provides performance and savings guarantees, and its remuneration is directly tied to the energy savings achieved. Therefore, an ESCO risks its payments on the performance of equipment and services implemented.
The typical ESCO project includes the following elements:
Investment grade energy audit,
Identification of possible energy saving and efficiency improving actions,
Comprehensive engineering and project design and specifications,
Guarantee of the results by proper contract clauses (EPC),
Code compliance verification and guarantee,
Procurement and installation of equipment,
Project management and commissioning,
Facility and equipment operation & maintenance for the contract period,
Purchase of fuel & electricity (to provide heat, comfort, light, etc.),
Monitoring and verifications of the savings results, and
Project financing.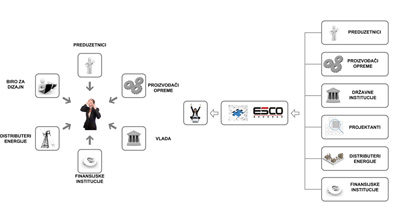 While the ESCO shall ensure all the above actions, the ESCO is not necessarily responsible for all of them. Some actions can be subcontracted; however, the ESCO has to ensure the results and project implementation. Some experts have compared the role of the ESCO to the architect in new property development: the architect has to define the project, select the engineering firm, supervise the building construction, obtain the permits, etc.
The financing of the project is ensured through two main types of contracts: Guaranteed Savings and Shared Savings. In the shared saving contract, the ESCO assumes the performance and credit risk; in the guaranteed savings contract, the client assumes the credit risk, while the ESCO assumes the risk for the savings.
ESCOs generally act as project developers for a wide range of tasks and assume the technical and performance risk associated with the project. Typically they offer the following services:
Develop, design and finance energy efficiency projects,
Install and maintain the energy efficient equipment involved,
Measure, monitor and verify the project`s energy savings and
Assume the risk that the project will save the amount of energy guaranteed